Chokbølge behandling
Smerter, der har varet længere end 3 mdr., kan være svære at komme af med. Smerterne bliver kroniske, og patienten kan opleve daglige smerter i årevis.På baggrund af dette, har klinikken med stor succes, taget en ny behandlingsform i brug.
Chokbølgeterapi, også kaldet ESWT
Ortopædisk chokbølgebehandling
Furesø Fysioterapi bruger Aries fra tyske Dornier MedTech som repræsenterer "state of the art" chokbølgeteknologi, baseret på mere end 30 års erfaring. Dornier MedTech er kendt for at være pionerer og markedsledende indenfor chokbølgeteknologi.
Chockbølgeterapi er stadig forholdsvist nyt behandlingsinitiativ i Danmark, på trods af at det gennem de seneste mere end 15 år gradvist er blevet meget udbredt i specielt det centrale Europa samt USA, som et attraktivt, non-invasivt behandlingsalternativ til primært en række kroniske, smertetilstande i det musculoskeletale system, der hidtil har været svære at behandle.
Bogstaverne ESWT står for Extra-corporeal Shock Wave Terapi. En chokbølge er en intens, meget kortvarig energibølge, der bevæger sig hurtigere end lyden.
Chockbølger må ikke forvekles med den billigere og mindre effektive "radial shockbølge", som nærmere er en trykbølge. For at en chokbølge kan defineres som sådan, må energien bevæge sig hurtigere end lydens hastighed i vand (1500 m/sekund), da det er ved denne hastighed, at 'chokket' dannes, når energipulsen bryder lydmuren.
Til sammenligning bevæger de radiale trykbølger sig med ca 10 m/sekund, og bryder ikke lydmuren, hvorfor en egentlig chokbølge ikke dannes.
Selve profilen på chokbølger og trykbølger er derudover meget forskellige. Chokbølger (ESWT) er meget hurtige og meget intense og trykbølgerne (RSWT) er langsommere, mindre intense, forlængede og med en fladere profil.
ESWT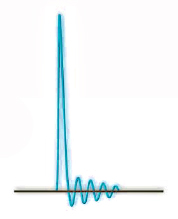 RSWT

De forskellige fokustyper og energidistribution:
Radierende/ikke-fokuseret, smart fokusering og klassisk fokuseret (se nedenfor):

Furesø Fysioterapi benytter:
Smart fokusering (Aries) som er en innovation fra Dornier MedTech, der blev lancheret i 2009, som en nyudvikling i forhold til deres eksisterende fokuserede teknologi til ortopædisk brug (EPOS). Smart fokus er designet til at distribuere energien i et knap så kraftigt fokuseret område, i en smal energi-/stimmuleringskanal, med mulighed for høj peak power i kombination med fleksibel penetreringsdybde fra 0-7 cm, hvilket giver mulighed for at behandle en bred vifte af tilstande, overfladiske som dybereliggende.
Den billigere og mindre effektive løsning, som de fleste bruger:
Den radierende type afleverer energien på hudoverfladen, hvorfra den gradvist aftager i kraft. Den spreder sig hurtigt i vævet, og kan derfor bruges til at behandle større områder. Relativ lav energi peak power og penetreringsdybden er max 3-4 cm alt efter vævskonsistens og vævsgennemtrængelighed.
Ortopædisk brug:
Den klassisk fokuserede type afleverer den største del af den producerede energi i et meget lille behandlingszone i vævet, og det er derfor af allerstørste vigtighed at behandlingen er præcis. Dette giver mulighed for dybere penetreringevne og levering af et højt energiniveau til behandlingszonen. Denne metode bliver benyttet til nyrestensknusning/lithotripsi, og lagde grunden til brug af chokbølgeterapi indenfor ortopædien.